Unlock a better experience with Twitter RSS feeds
Twitter RSS feeds are now available by navigating to any Twitter user's profile and adding openrss.org/ in your browser URL bar, just like all of our other feeds. For example, the RSS feed for @internetsociety is at the URL below.
https://openrss.org/twitter.com/internetsociety
View tweets from any Twitter user
You'll see all recent tweets in a user's timeline in reverse-chronological order, along with the details of each tweet. This includes the tweet itself, any attached images, and a date that, when clicked, takes you directly to the full tweet that will open in either the Twitter website or the default native Twitter app on your mobile device.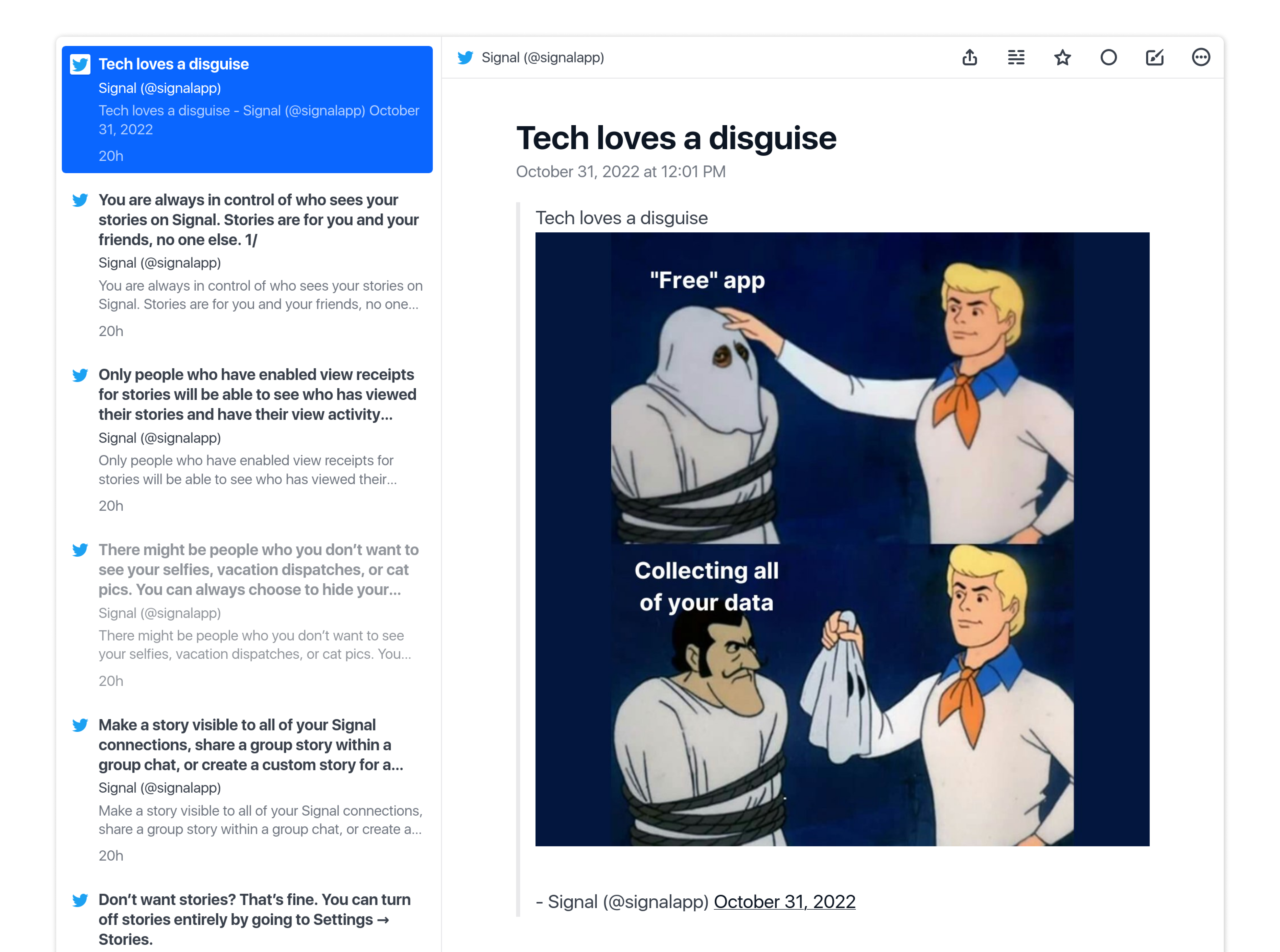 Easily distinguish Tweets vs Retweets
When a retweet shows up in the feed, it's clearly marked in the title to distinguish it from non-retweets, allowing you to see what user it originated from fairly quickly.
See replies in context
Seeing a tweet reply in your feed without the tweet it replies to can be confusing. So we focused on giving you more context around a reply when you see one in our feeds. When you see a tweet reply, it'll also contain the original tweet that was replied to, as shown below.
Browse Twitter without being tracked
When you navigate the Twitter website, your browser fingerprint is tracked, which reveals a lot of information about you, including your IP address and your location. But when using RSS feeds, there's really no need to visit the Twitter site at all, allowing you to safely consume Twitter content while retaining your privacy.
Enjoy a simpler, faster Twitter experience
We've found, during benchmarks and testing, that when a tweet is viewed in our RSS feeds, it loads on average around 14 times faster than on the Twitter website. This is because we strip all of Twitter's unnecessary code, giving you only the text, so content loads instantaneously when appearing in our feeds. So give them a try if you like, and please don't hesitate to let us know if there's anything we can do to improve them.
❤
Open RSS is a registered 501(c)(3) nonprofit headquartered in the District of Columbia, USA and funded only by voluntary donations of its users. If you enjoy using Open RSS, we'd be so grateful if you'd consider donating to help us grow and continue to provide you with a quality and reliable service.